Testimony Tuesday: Cuddle Cot in Honor of Hope Babies
I wanted to do something big for my triplets' 5th birthday. My husband and I decided we wanted to fundraise for a Cuddle CotTM. A Cuddle Cot is a cooling device used to preserve a body while parents say goodbye to their baby in the hospital. Having more time with the baby is a precious gift for parents grieving after stillbirths and neonatal deaths—making the most of those last moments they will spend together here.
Cuddle Cots in Honor of My Niece, My Triplets, and Hope Mommies
We started the campaign in August of 2014. I imagined a year was a good amount of time to raise the money by my triplets' 5th birthday, which was in August of 2015. Much to our surprise, we had raised enough money by Christmas of 2014; we were ecstatic! We placed that cot in memory of my niece Jordan, and my triplets, Nathan, Malia, and Anthony Jr. at a local hospital, Strong Memorial Hospital in Rochester, NY, where I delivered my children. It was the first cot placed in this area. The hospital was so grateful, and they now have 3 cots!
We had enough money left over that we decided to raise money for another cot for a different hospital. I have friends who delivered their children at another local hospital; I knew they didn't have a cot yet. From January 2016 to January 2017 we raised enough money to place a cot at Highland Hospital in Rochester, NY. On January 26, 2017 we, along with other Hope Moms who had a connection to this hospital, were able to deliver it. They were so grateful and told us how important having this cot at the hospital will be! Hope Mommies is so important to me, and to so many. I wanted this Cuddle Cot donated in honor of Hope Mommies and all the Hope Babies globally.
Why I Chose Hope Mommies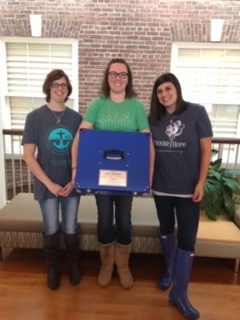 Hope Mommies was the first and most important organization that helped me when I first lost my triplets. It was hard to find an organization that viewed the death of my children the way I did. The truth of the Bible and the hope that I would be with my children again someday were so important to me!
Hope Mommies was where I learned more about how to grieve with hope. I knew I didn't need to grieve as the world did, but I wasn't all that sure what that meant. I had been a Christian for a long time when I delivered my triplets. Yet, I had never dealt with a death of that kind of magnitude, a death that was so close to my heart, a death that rocked my core. I had never experienced a test of my faith before. Hope Mommies was there to help me stay focused on the important truths in a time when the worldly perspectives can so easily take over your mind and heart.
Grieving the death of your child is a time when bitterness and despair can take hold of your heart. The truth of the Word fights against that. Hope Mommies was there to help keep that truth in the forefront of my mind. They had online bible studies, called Hope Groups; they had willing and loving women to fight the lies with me because they had already walked that road and were still walking it, but steps ahead of me.
I'm thankful that, now, 4 out of 4 hospitals in my city have at least one Cuddle Cot, and grateful to have donated one in honor of you, Hope Moms and your Hope Babies.
---