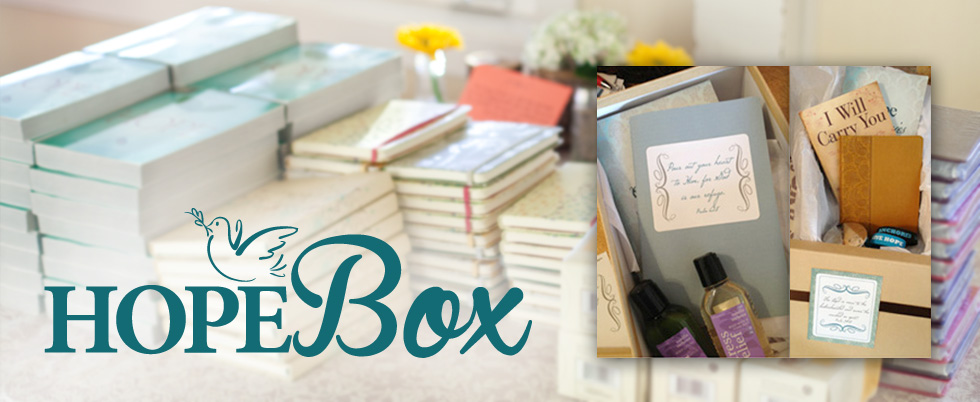 Send a Hope Box to a grieving Hope Mom 
Hope Boxes support Hope Mommies™ mission by giving a tangible gift that expresses love, provides Biblical truth, and invites bereaved women into a community of fellow Hope Moms.
Our Hope Boxes contain gifts that encourage grieving well while pointing to the Hope of Christ that will sustain for years to come. These items include an ESV Bible, a Heaven Booklet (Randy Alcorn), a book on grief, journal, scripture cards, handwritten note, and a Hope Mommies™ brochure. A Hope Box also includes various comfort and pampering gifts such as: tissue, tea, coffee, lotion, lip care, bath bomb, candle and jewelry. Every Hope Box is assembled by a fellow Hope Mom or one of your Hope Mommies Leadership Team members making each one unique and specially addressed to the new Hope Mom.
Hope Boxes can be donated in honor of a loved one, your Hope Baby or the receiving Hope Moms precious little one.  The loved one's name will be on the inside of the box, and a note will be included to let the Hope Mom know who gifted her with the Hope Box.
If you know of anyone who has recently experienced loss, we encourage you to consider gifting them with a Hope Box! We will mail the Hope Box directly to the Hope Mom, or we will mail it to you if you wish to hand deliver the Hope Box. Please specify under "Mailing Instructions". Our volunteer staff will send out a donated box as soon as possible. Please allow up to three weeks from time of donation to delivery.
A Hope Box is a $54.99 tax-deductible donation that includes all contents, assembly and delivery charges.