Great is Thy Faithfulness (and a giveaway!)
This past February at our Hope Mommies Retreat, we were so blessed to have Sandra McCracken lead our evening worship sets. She said something profound that I had never considered before: the hymn writers of old wrote what they knew to be true; not what they were currently experiencing. They would pen a poem of God's faithfulness, commanding their hearts to have a forward looking aspect and depend upon God's character — in a word, they sung hope. They were not wishful thinkers, or ignorant of great pain and loss. They fully recognized the brokenness of a fallen world and the gravity of sin. But they set their hope on God, and commanded their hearts to listen, sing, obey, and worship– especially in the midst of great trials. Consider this hymn:
Great is Thy faithfulness, O God my Father;
There is no shadow of turning with Thee;
Thou changest not, Thy compassions, they fail not;
As Thou hast been, Thou forever will be.

Great is Thy faithfulness!
Great is Thy faithfulness!
Morning by morning new mercies I see.
All I have needed Thy hand hath provided;
Great is Thy faithfulness, Lord, unto me!

Pardon for sin and a peace that endureth
Thine own dear presence to cheer and to guide;
Strength for today and bright hope for tomorrow,
Blessings all mine, with ten thousand beside!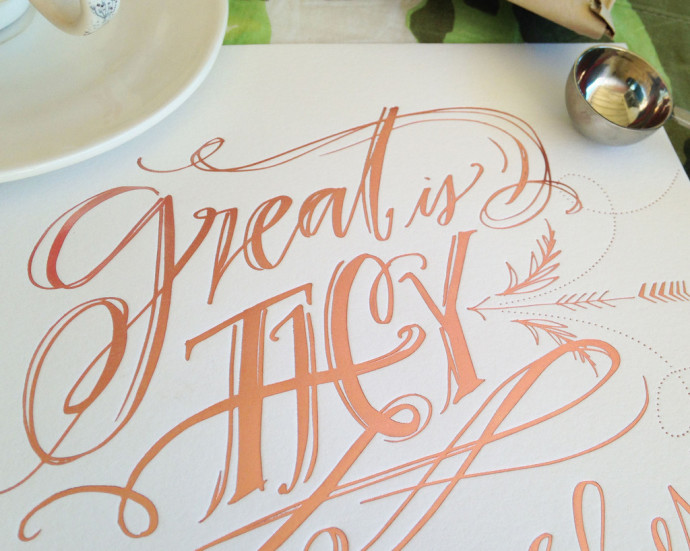 It's quite possible that the writer, Thomas Chisholm, had bad days. That he had days without cheer; without feeling God's guidance; without strength to face a new day. He was not immune to death, illness, or grief. But he wrote a hymn that commanded his heart to anchor itself not to his own circumstances, but to the unchanging greatness of God who is full of mercy and love.

This Sunday is Mother's Day. And I cannot help but think of how many precious moms around the world — in my city, and in my church — will be struggling to just get through this Sunday. They had dreamt of handmade, messy Mother's Day cards and sticky kisses and photographs and dandelion bouquets. For them, Mother's Day is one more holiday that poignantly reminds them that their sweet baby is in Heaven, and that their title of "Mom" is not as it should be. They need the reminder of God's great faithfulness— to them. To their story. God will be faithful, to their family.

All of us need a reminder of God's great faithfulness.

So we've teamed up with Lindsay from Lindsay Letters to provide a special giveaway for everyone who has supported Hope Mommies and has been involved with us through the years! Lindsay's craft for beautifully depicting God's word through her calligraphy is amazing, and she has donated THREE 8×10 prints of "Great is Thy Faithfulness" to Hope Mommies for a Mother's Day Giveaway!

The contest is open til 12pm on Mother's Day, (this Sunday, 5/11/2011). Don't miss an opportunity to get this beautiful reminder of God's tenderness toward us!

And to all my sweet Hope Mom friends, know that I am praying for you this weekend.

Images courtesy of Lindsay Letters, www.lindsayletters.com
---
9 Replies to "Great is Thy Faithfulness (and a giveaway!)"
May 7, 2014 (8:51 pm)

Wow. My husband and I were just emailing back and forth about these very thoughts when I pulled up this blog post. I am getting ready to face my third Mother's Day without my middle child. And I saw that the 2 songs we sang at Graham's memorial service are scheduled to be sung this Sunday at church. I am thankful for the faithfulness of the Lord to hold us up when it doesn't seem possible. I miss my son, but I am anchored in Hope that I will see him again.

Shaina

May 7, 2014 (11:12 pm)

I think these are beautiful and so special for Mother's Day for us Hope Mommies!!

Brenda

May 8, 2014 (1:18 am)

Nothing has shown me how great God's faithfulness is as much as losing my babies has. Not because they left my arms but because they are in His.

May 8, 2014 (3:56 am)

This is going to be my first Mother's Day without my son. I was suppose to be dedicating him, and showing him off for the first time to our church this weekend. Instead, I will be trying to hold it together as I continue to praise the one that choose me to carry him. I know that only my faith in my Lord, and the hope and grace he brings will get me through each day. I miss my sweet Tristan, but he will always be my angel fish.

May 8, 2014 (1:29 pm)

I love this hymn! and I love this print!

Anna

May 8, 2014 (1:54 pm)

Love this hymn! Beautiful!

Kerri S

May 8, 2014 (2:08 pm)

It says Christmas, but I think you mean Mothers Day, but either way, and for both times, he gives me hope to continue on mothering my twins and that one day we'll see our daughter!

May 8, 2014 (7:17 pm)

This is just beautiful!

Katie Morris

May 9, 2014 (1:32 pm)

Love that hymn!
---