Yet I Will Praise You {A Psalm of Asaph}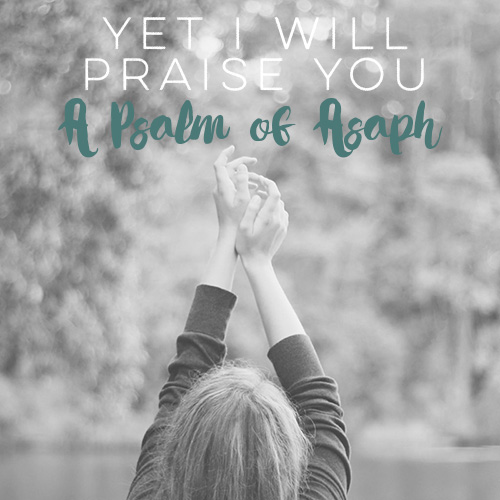 "I cry aloud to God,
aloud to God, and He will hear me.
In the day of my trouble I seek the Lord;
in the night my hand is stretched out without wearying;
my soul refuses to be comforted.
When I remember God, I moan;
when I meditate, my spirit faints.
You hold my eyelids open;
I am so troubled that I cannot speak…"
Psalm 77:1-4
Can you relate, precious momma? In your grief, have there been moments when you were so troubled that you could not even utter a word? When your soul refused to be comforted? When your hand remained stretched out towards God, longing for deliverance from the sorrow you now bear? Or perhaps, those feelings have become so familiar to you that it seems as though you will never escape from them. You are not alone.
Asaph*, too had known great sorrow, and we can learn much from his life about what it looks like to cry out to God in the midst of pain and hardship.
In examining the other Psalms that were written by Asaph, we learn that he was a contemporary to the Babylonian invasion and destruction of the Temple. In order for us to best understand the devastating significance of this event to Asaph, we need to look back a little farther into Israel's history.
In 1 Chronicles 6, King David had just brought the Ark of the Covenant into Jerusalem—the capital city he had established in order to unite the tribes of Israel and once again create a center of worship for all the people. The Ark of the Covenant was a wooden chest overlaid with gold which contained the stone tablets upon which God, Himself, had inscribed the Ten Commandments. But even more importantly, the Ark symbolized the very presence of God dwelling with His people. After God had instructed Moses on Mount Sinai to have the Ark built, He told him that it would be from above the mercy seat of the Ark, that He would meet and speak with him (Exodus 25:22).
When the Ark arrived in Jerusalem, David assigned a number of Levites, under the direction of Asaph, to serve as singers who would "play loudly on musical instruments, on harps and lyres and cymbals, to raise sounds of joy… as ministers before the ark of the Lord to invoke, to thank, and to praise the Lord, the God of Israel continually" (1 Chronicles 15:16, 16:5). Over the years, this guild of men become known as the sons of Asaph.
The sons of Asaph served in this capacity for all of David and Solomon's reigns and continued on for over 300 years even after Israel became a divided kingdom. Can you imagine being a part of the legacy of those who had been assigned to continually lead worship at the Temple before the presence of God for all the people? What an incredible privilege!
But then Babylon laid siege to Jerusalem. For two years, the people of Judah (the southern Kingdom of Israel) waited out the siege until the famine was so severe that there was no food for the people. When Jerusalem finally fell to the Babylonians, their enemies captured the king, ransacked the city, carried those who hadn't been killed by the sword into captivity, and burnt the Temple of the Lord to the ground.
Asaph sees the prosperity of the wicked, the desperate plight of his people, the ruins of the Temple—what had once been the dwelling place of God's holy presence—and the enemy continually defiling the very name of God, and it seems that through all of this God is silent. Anguish settles deeply into Asaph's soul.
"O God, why do You cast us off forever?
Why does Your anger smoke against the sheep of Your pasture?"
Psalm 74:1
"Will the Lord spurn forever,
and never again be favorable?
Has His steadfast love forever ceased?
Are His promises at an end for all time?
Has God forgotten to be gracious?
Has He in anger shut up His compassion?""
Psalm 77:7-9
"O Lord God of hosts,
how long will You be angry with Your people's prayers?
You have fed them with the bread of tears
and given them tears to drink in full measure."
Psalm 80:4-5
"O God, do not keep silence;
do not hold Your peace or be still, O God!"
Psalm 83:1
Of the twelve Psalms written by Asaph, half of them are laments—honest declarations of grief to God. He is deeply troubled by his circumstances, and continues to cry out to God for deliverance and justice. As you read his pleas to the Lord, you can taste the utter agony that has covered him. Coming from a man who had been appointed to continuously invoke praise to God on behalf of all the people, it is clear that Asaph has come to the end of himself. He is weary and distressed, and the weight of his circumstances have led him to question the very character of God. But his laments did not leave him dangling in hopelessness. They led him back to the Lord. And it began with this simple phrase:
"I will remember the deeds of the Lord…"
Psalm 77:11
While Asaph was weighted down with his sorrow, he resolved in his heart to remember that God is faithful to His promises—that He will always be true to His character—no matter how hopeless things may seem. And if we want to cling to hope in the midst of our own sorrow, we must do the same.
"I will ponder all Your work,
and meditate on Your mighty deeds.
Your way, O God, is holy.
What god is great like our God?
You are the God who works wonders;
You have made known Your might among the peoples."
Psalm 77:12-14
When the sorrows of life threaten to overwhelm us, we must remember that our God is the God who works wonders, and we don't have to look any further than the cross to see the proof. Anchoring our hope to the gospel is what sustains us in the midst of suffering. We turn our eyes on the crucified and risen Savior, recalling this profound demonstration of God's steadfast love towards us.
That's what we do when we follow the pattern of the laments. It is not merely venting our sorrows to God or discarding our emotions at His feet. Lamenting is choosing to bring our anger, confusion, and hurt before God, calling to mind His faithfulness, and allowing His Spirit to transform our lives and affections into the likeness of His Son. When heartache and agony try to pull us away from God, lamenting draws us closer to Him.
One day God will make all things new. But until then, let us bring our grief to the Lord, fasten our hope to Him as we recall His mighty deeds, and join with Asaph as we sing the song of praise to our God!
"But we Your people, the sheep of Your pasture,
will give thanks to You forever;
from generation to generation we will recount Your praise."
Psalm 79:13
---
*Although the Psalms attributed to Asaph were most likely written by one of the sons of Asaph—a guild of musicians that serve in the Temple—for the purpose of this post we will simply refer to the author as Asaph.
---
- Ashlee
Hope Mom to Simeon and Odelle
Ashlee is an Editorial Coordinator for Hope Mommies. She and her husband, Jesse, have four children on earth and two little ones in Heaven. You can get to know her more by reading her blog, Beyond Undone.
---
Are you a writer who would like to join the blog team? Learn more and apply here.
---
---
---