Parenting Older Children Through Grief

Each child gone ahead from among us is a precious person made in the image of God—and all having been made into Hope Moms, we together declare motherhood in each of our journeys. We are eager to go above and beyond in showing honor and love for one another (Rom. 12:10, 15). Through this series, we honor each other's experiences of motherhood in love through our shared God of hope.
---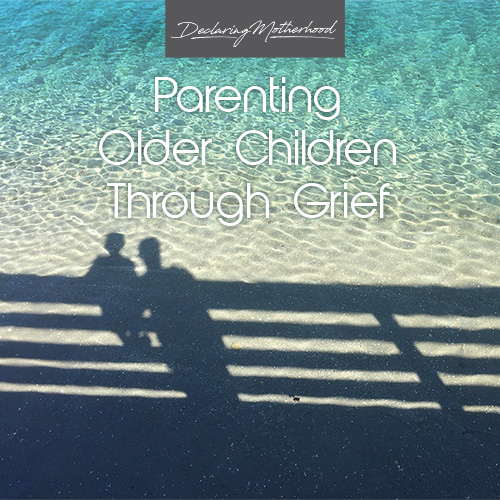 My girls were four and a half and two and a half years old when my son was stillborn at 37 weeks. We had presents under the Christmas tree for Zachary, and the girls were as expectant for their brother as we were to welcome a son into our family. When we came home from the hospital with empty arms, we were not the only ones in the family grieving. The girls were grieving the loss of their brother and were watching us grieve.
Losing their baby brother was the girls' first experience with death and my husband and I weren't very familiar with death either. We had grieved aging parents and grandparents but never a child.
So as we started our journey of grief, we were trying to figure out how to pave the way for our girls to join us on the unfathomable trek.
Though the oldest daughter seemed to understand the best and to move on to her life of dress up, bike riding and playing with the neighborhood kids, we knew she was grieving. Our youngest daughter was quiet but I knew she was feeling deeply.
How were we supposed to help our children grieve when we were trying to figure it out ourselves? I wanted my girls to have the opportunity to grieve but I didn't want them to take on my grief.
"Be merciful to me, Lord, for I am in distress;
my eyes grow weak with sorrow,
my soul and body with grief."
Psalm 31:9
There was a delicate balance between allowing the kids to grieve their own loss and freeing them from taking on my grief. I wanted them to have the space to grieve but I didn't want them to feel like they had to grieve the way, length or depth I did.
As I moved through the grieving process, I learned a few things about how to help my girls grieve.
1 – I let it be their grief.  I didn't talk about how sad I was or say things like, "don't you miss baby brother?" Of course there are times when you need to gently ask questions so they have an opportunity to express their grief but let it happen organically—unless you suspect they are struggling. I didn't want my emotions to dictate their emotions.
My grandfather told me his mom was "never the same" after his sister died. He watched her carry her sorrow her entire life and it made him sad. I didn't want to be like that.
2 – I found a balance between letting my children see my grief and not. I found that my children did not need to see every tear I cried. They didn't need to know the depth of my sorrow. I'm not saying I held it in and never let them see my tears. I'm just saying they didn't have to see them all. They are children and their natural tendency was to be resilient—so they didn't grieve as deeply or long as I did.
3 – Most importantly, I let my children see me running to and clinging to Jesus. I sought to be the example of faith and hope and joy to my children. I didn't make myself pretend to be cheerful, but I let my children see me seeking Jesus as the gracious Source of all joy.
"These things I have spoken to you, that my joy may be in you,
and that your joy may be full."
John 15:11
Jesus' joy in us fills us! I let my children see me seeking Jesus to replace the tender places in my heart with sweet joy. He is able to restore us—to help us trade our sorrow for joy as we humbly serve Him.
"Weeping my tarry for the night,
but joy comes in the morning."
Psalms 30:5b, emphasis added
The most important thing I did to help my children through their grief was to let them see me rely on Jesus to get through mine. I let them know I was hurting but that Jesus makes it better. And I directed the sorrow back to the truth that we don't have to stay sad because we will see our babies again. Because Jesus died from our sins, we can have eternal life and see our children again in heaven.
As Hope Mommies, we have a wonderful opportunity to let our older children know that Jesus is faithful even in the hard times. Teach them He is reliable even in our sorrow. He restores our joy. He rescues us from the pit of despair. He saves us from our sins. He renews our hope.
- Shelly
Hope Mom to Zachary Robert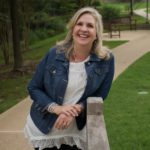 Shelly D. Templin is an author, speaker and blogger that shares a message of hope – with humor. She has three daughters, a son-in- law, and a granddaughter. Shelly lives in Texas with her husband, Jack, of 29 years and their two dogs.
---
Are you a writer who would like to join the blog team? Learn more and apply here.
---
---
---