Return To Zero
I sat in the silence, breathing deep and slow, as hot, wet tears streamed down my face.
"How does anyone ever live through stillbirth?" I asked myself.
And then I realized it…
I have. And I am.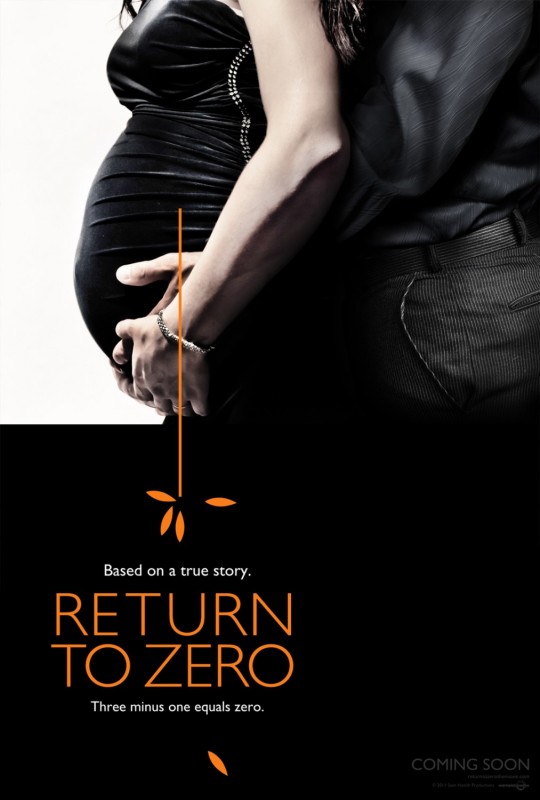 For what seems like years, I have been hearing about an independent film being made about stillbirth. The first of its kind, and boasting a star-studded cast that included Minnie Driver and Paul Adelstein, it seemed a shoe in to get picked up by someone. Someone would want to make this film. But it turns out that while big budget movie companies thought the script was beautiful and wanted the movie made, they thought that it was just too sad. Who wants to see a movie about stillbirth? So they passed.
Bravely, the Lifetime cable network  saw Return To Zero as an important story that needed to be told and on May 17, it aired as the networks first ever global premiere. The buzz around the community was that this was a must see. The fact that this movie had even been made and was being shared with the world felt validating to so many families who have experienced the death of a baby. It wasn't just a story. It was their story.
So on Saturday night, I grabbed a few Kleenex, and both excitedly and cautiously pressed play on my dvr.  I had been having trouble getting through the three minute trailer without being a mess of tears, so I was expecting to pretty much be a basket case by the end of the two and a half hour movie.
The first thing I can tell you about Return to Zero is that it is honest, raw, and real. I know that so many families who have experienced the loss of a baby will see themselves in this film. I found myself countless times thinking that I had said, or someone else had said to me, exact words that were spoken. Or that I too had felt that, done that, or had that done to me. I am both proud and thankful to the many people who made this film for not trying to sugar coat grief. Our culture teaches us that grief should look a certain packaged way, and I felt that those "ideals" were shattered and the reality of brokenness was able to shine through in an brave and honest way.
At the end of the movie, I found myself exhausted. It was hard to see a story similar to mine from the outside. It was difficult to watch the ultrasound that showed death instead of life. It was gut-wrenching to watch the birth scene in which the silence in the room is deafening and heartbreaking. I remembered my own life-shattering days, that looked all too similar, like they were yesterday.
But I think what exhausted me the most, was that as the movie closed, I felt hopeless. Empty. Like this pain was never going to get better for them.
In one of the last scenes, Maggie, played by Minnie Driver, just after giving birth to a healthy daughter,  asks, "Where is the joy? When does that come?" Her perinatologist replies to her, "In time."
But does time really bring joy?
The movie continued on to show the family, a few months later, and it seemed as if, emotionally, they were exactly where they had been last time we saw them. I didn't see joy. Time had yet to bring it to them.
So as I sat and asked myself, "How does anyone ever live through stillbirth?", I too wondered when the joy comes. And it became clear. In the film, there was no joy because there was no Jesus.
Because we can't look to the birth of a healthy child after loss for our joy. As Maggie finds out in the movie, the birth of a child does not heal your heart from the death of another.
Time may make it easier to compartmentalize your grief and keep it locked away in an area of your brain that you tuck away. Time may allow you to find a way to live what looks like a normal, healthy life on the outside. But time does not give joy.
Half of all families experiencing stillbirth never know, medically speaking, why their baby died. We search for why in medicine and when we cry out to God, but most of us never get a clear answer.
Yet Jesus frees us from the bondage of Why and rescues us through his death on the cross with Who. He gives us himself, a perfect sacrifice, so that our babies may live. And if we put our faith in him as the Son of God, we will be granted eternal life as well.
But having Jesus be present in our grief doesn't mean that it's rainbows and butterflies. He was a man acquainted with deep sorrow. He didn't shy away from the horror and sting of death. He embraced it willingly— on our behalf.  Because death for him brought life to us, and life to our babies. That is why there is hope. Believing that hope is why there is joy.
"We do not want you to be uninformed, brothers, about those who are asleep, that you may not grieve as others do who have no hope. For since we believe that Jesus died and rose again, even so, through Jesus, God will bring with him those who have fallen asleep." (1Thes.4:13-14)
The Bible tells us the the Lord is near to the brokenhearted (Ps. 34:18), and blessed are those who mourn, for they shall be comforted (Matt. 5:4). Jesus himself tells us that this world will have trouble. But he says, "Take heart, I have overcome the world." (Jhn 16:33)
This broken and sinful world that we live in is full of suffering and sorrow. But when our hope lies in Jesus, our hope is anchored in the reality that this world is not all that there is. There is so much more waiting for us in Heaven then we could ever imagine! And the hope of Heaven, and our life there with our babies, given through Jesus' death on the cross, is what makes the suffering bearable. Knowing that there is more to life than this world and the pain that we feel here, and that one day, our tears will be wiped away and death will be no more (Rev. 21:4) is what allows us to have joy amidst our grief.
I wish that I could sit on that beach, and watch that sailboat float off into the ocean, so that I could tell Aaron and Maggie about the One who could calm their raging seas. But it's just a movie; an incredible movie, at that. I am thankful that it has brought the subject of stillbirth out of the dark and started great conversations regarding such a taboo subject.
You can find out more about the Return To Zero at www.returntozerothemovie.com. Check your local tv listings for upcoming air dates.
At Hope Mommies, we believe that there is hope. Visit our website at www.hopemommies.org to learn more.
{This blog was written by Kelly Mahalak, with contributions from Erin Cushman}

---