Give Hope – Christmas Wreath!
It's not even Halloween yet, but I am so excited about Christmas. I've enjoyed scheming of ways to Give Hope, have been browsing recipes, magazines, and pinterest, looking for fun ways to surprise and give this season. This wreath was a conglomerate of ideas, edited and smashed together to create something a little unique for this Christmas!
Here's my (Erin) first Give Hope project— a Give Hope wreath!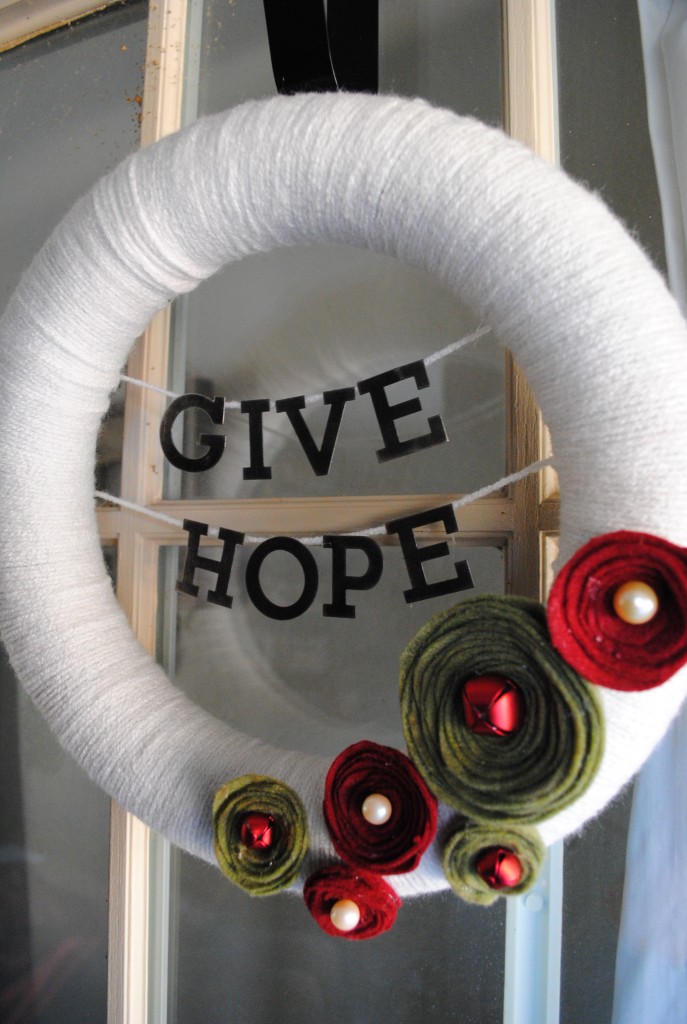 What you'll need:
– A foam wreath
– A ball of yarn
– Craft felt in your choice of christmas colors (I used two maroon sheets and one minty green)
– Hot glue gun
– Jingle bells or pearl beads
– Metal craft letters for the phrase, "Give Hope"
Step One: Yarn your wreath
Taking your hot glue gun and yarn, secure the end of your yarn ball to the back of your wreath. Then wrap! I glued the yarn about every 2 inches or so, just lightly blending the glue into the yarn.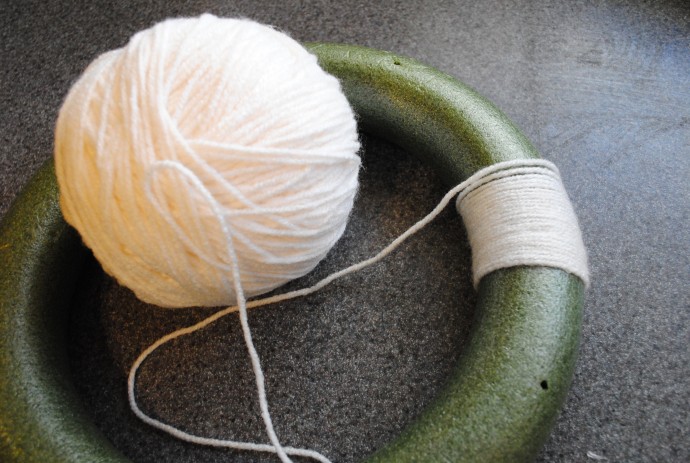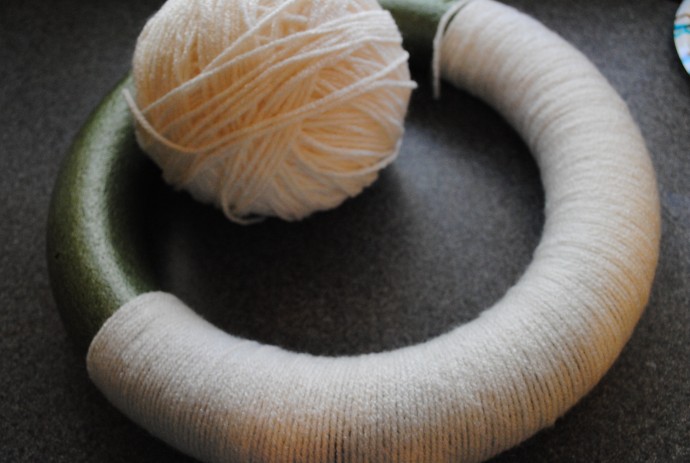 Step Two: Make felt flowers
I'm sure you can create different flowers in a variety of ways, but I wanted to create little rosettes. I started by making a spiral patterns on the felt. I purposely did not make them perfect… I liked how unbalanced lines would make the rosette a little funky.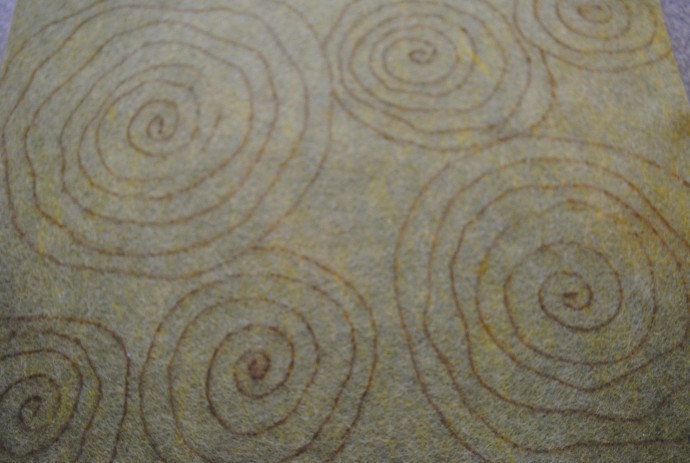 Follow your lines and cut out your spirals — you'll have one long, curly strip of felt. Take the inside of the spiral, and pinch it together. Secure it with hot glue, and then start wrapping!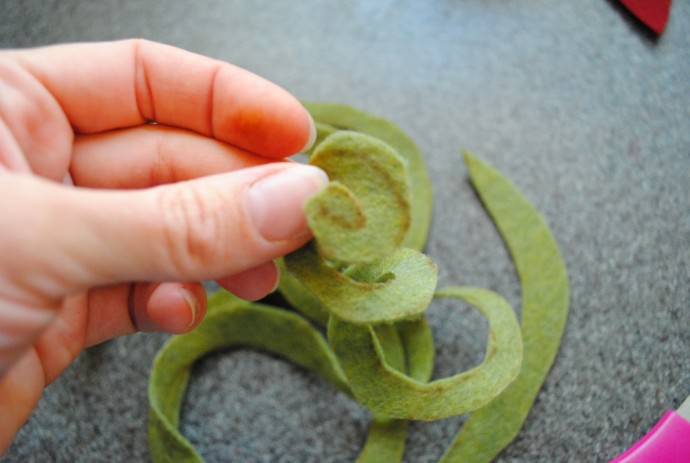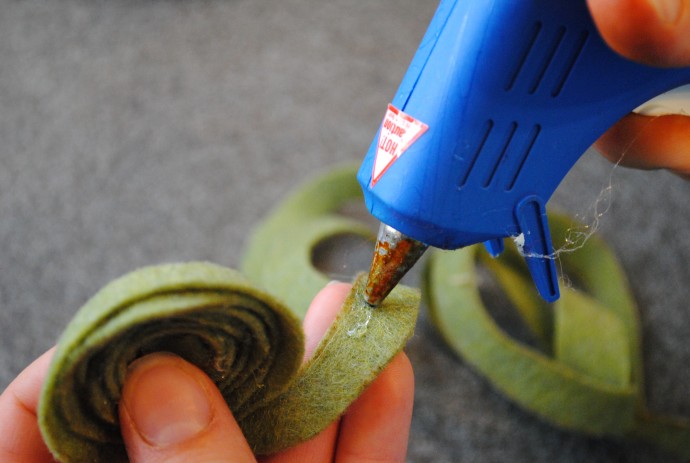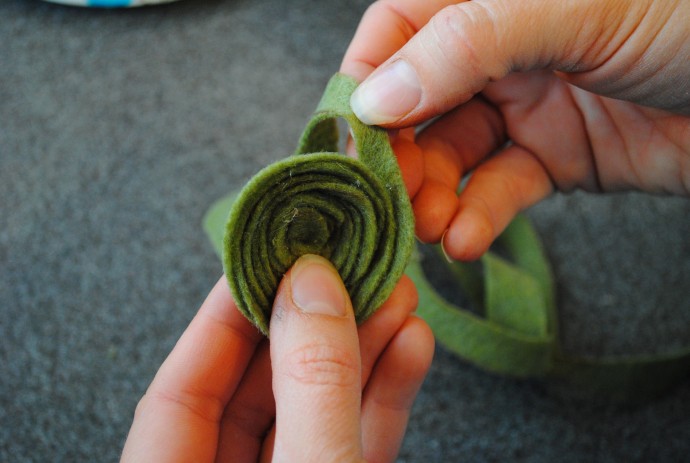 Step Three: Glue your rosettes onto your wreath
(Sorry, I forgot to take a photo of a finished rosette.) I made various sizes of the maroon and green, and lined them up on the wreath before gluing. After figuring out how I want them placed, I put a good sized glob of hot glue on the back and held the rosette on the wreath for 30 seconds or so, to make sure it held securely.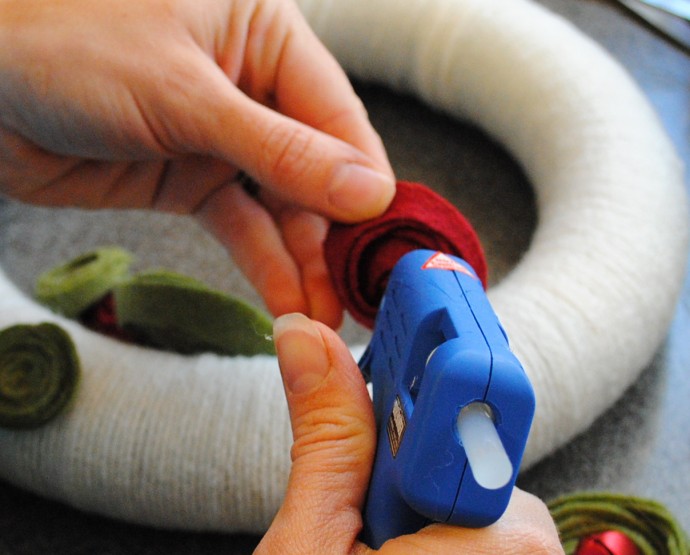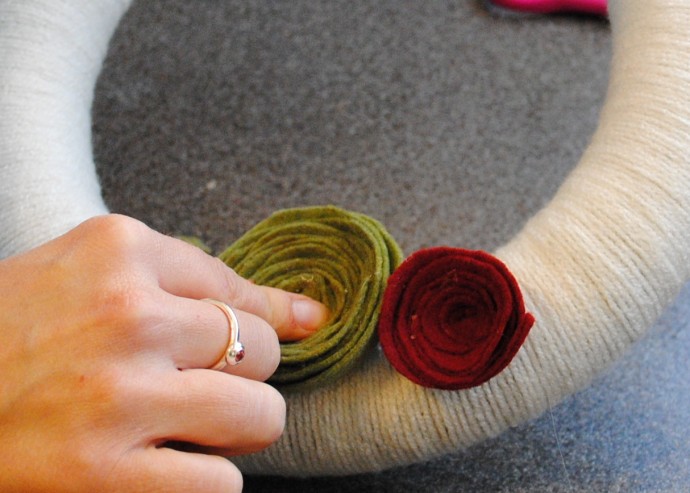 Step Four: Adding jingle bells and pearls
I put red jingle bells of two different sizes as the center of the green rosettes, and plastic pearls for the red. Use a small dab of the glue, and hold in place for a few seconds.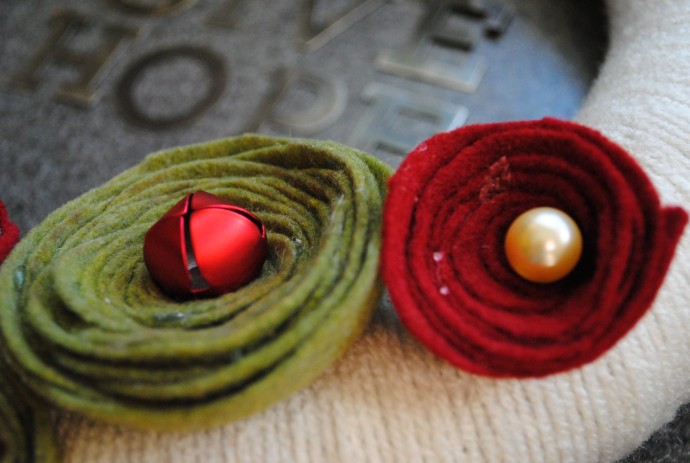 Step Five: Give Hope
Use your creativity to put the phrase, "Give Hope" on the wreath. Sorry, I forgot to take photos of this one too! But I used small galvanized letters, and hot glued the tops of the letters onto a strand of yarn. After it dried, I glued the strand onto the back of the wreath, and let it dry. And Viola!  A beautiful wreath to grace your door and remind friends to Give Hope this season.
Happy crafting!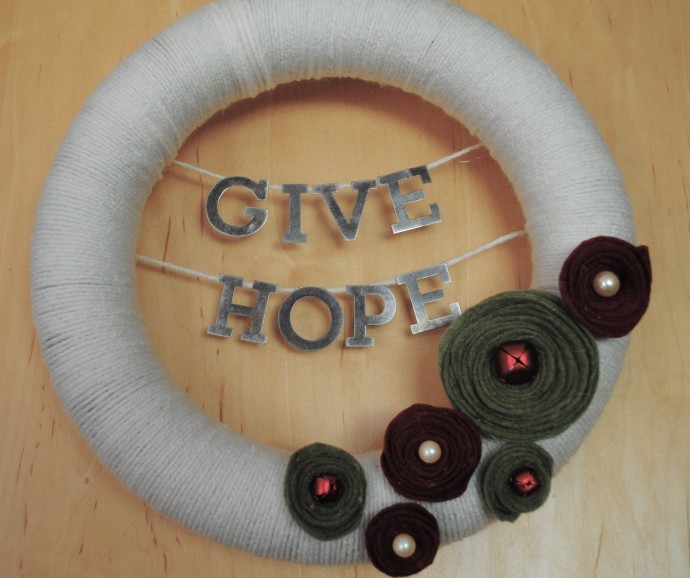 ---